The Hawaii Tropical Botanical Garden On The Big Island – Picnic In The Middle of A Nature Sanctuary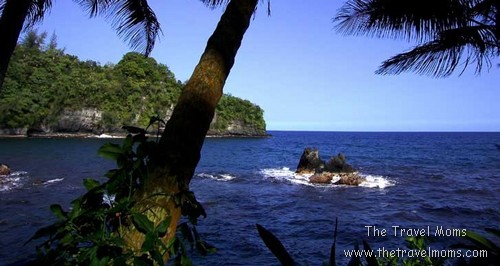 If you should find yourself on the east side of The Big Island, and are a person who appreciates beauty, nature, and peace then you must visit the Hawaii Tropical Botanical Garden, the "Garden in a Valley on the Ocean,"  which is located just 9 miles outside of Hilo, Hawaii.
The Hawaii Tropical Botanical Gardens is a 40-acre nature preserve and sanctuary that features a, "collection of tropical plants [that are] international in scope." In this, "Garden in a Valley on the ocean … Over 2,000 species, representing more than 125 families and 750 genera," can be found. The land was purchased in 1977 by Dan and Pauline Lutkenhouse, and Dan spent the next 8 years cleaning up the Valley and transforming it into the, "world class Garden," that it is today.
While walking through this rainforest you are treated to a serene three tiered waterfall, a Lily pond, entertaining macaws, an unmarked burial site pre-dating the 1900's, the mystical Twin Rocks that Hawaiian mythology says is the two lovers of Kahali'i who gave their lives to protect the shoreline from incoming attacks, all while making your way around the trail which hugs the rugged coastline overlooking the Pacific Ocean. Be sure to pack a lunch because there is the most magnificent picnic area where you can eat while watching the wave's crash against The Big Island's coastline. It is at this point you may just decide you never want to leave!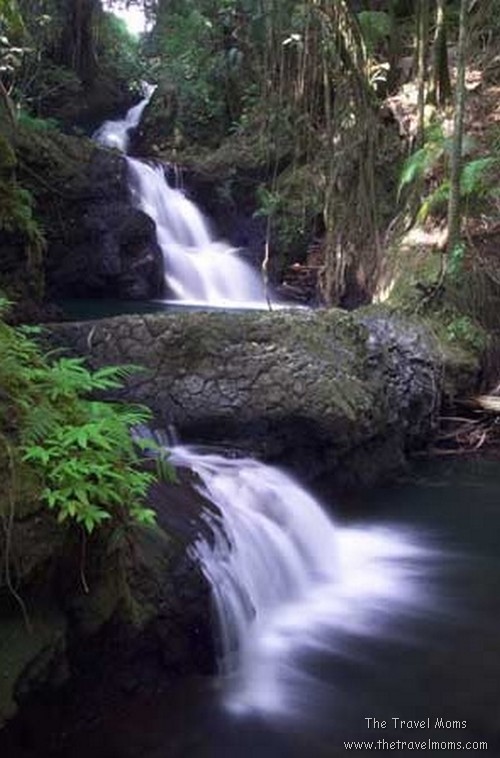 Along the trail there are many places to stop and rest, as well as covered pavilions, and restrooms. There is only one way in and one way out of this trail and this is the steepest point. Going down is easy, but the walk up can be a challenge for those who may have physical restrictions. Not to worry though the Garden offers golf cart service to those with physical disabilities that would otherwise make this walk impossible. This service is free for those who are wheelchair-bound along with their companion and $5 for all others who may not be in a wheelchair but require assistance. Strollers are allowed on the trail, for those of us bringing our little ones along for the walk. My children and I have walked this trail in rubber slippers, but I suggest you wear comfortable covered shoes. Also if you happen to be in Hilo on a rainy day don't cross the Hawaii Tropical Botanical Garden off your sightseeing list because the Garden is just as beautiful on rainy days, and they will provide you with an umbrella to borrow while you are the touring the trail. Admission for a day is $15 for adults, children ages 6 – 16 are $5, and children under 6 are free. Memberships are also available for unlimited access.
I first discovered this Garden when I decided to take my kids for a fun field trip. This is my first year homeschooling my oldest child who is in the first grade, and since she was learning about the parts of plants in Science the Botanical Garden seemed like the perfect choice for our very first field trip. My other two children – a four year old boy, and an almost 2 year old diva I mean girl – came along with us. I had no idea what the Garden would be like, but I never imagined how beautiful it would actually be.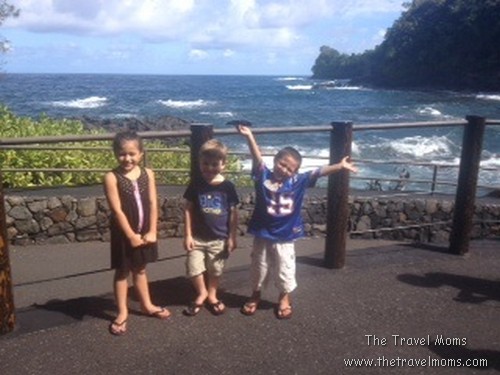 My oldest children loved the map they give you before you start out because they felt like it was a treasure map – and indeed once you are in the depths of this Valley you feel like have stumbled upon a treasure. The trail is not so long that the kids will start whining about being tired, and actually because there is something exciting around every corner they probably won't complain at all. My children's favorite parts were the waterfall, the wishing well, the birdhouse with the macaws, and of course the picnic by the ocean. If your timing is right you will get lucky and visit the macaws when one of their caretakers is feeding them because that is when they really light up and put on a show.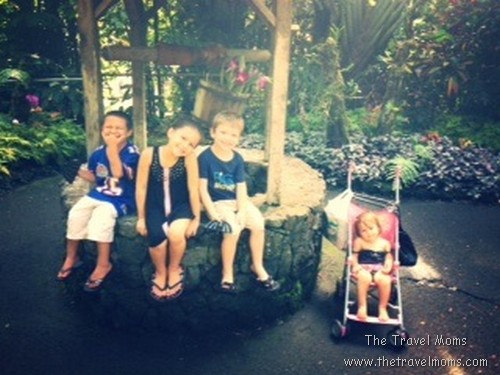 Since our first visit to the Botanical Garden we have been back at least twice a month just for picnics. In fact we decided to just go ahead and get a family pass that is good for a year since we cannot get enough of the Garden. It is perfect spot for everyone and anyone – families, couples, or individual who want to enjoy the peace and serenity alone. My mother-in-law recently visited and we took her and she was moved to tears by the beauty of the Garden's. It truly is a magical place that reminds us why Hawaii is one of the most desired vacation destinations in the world – because it is truly blessed with natural beauty, a beauty unparalleled.