Kate Middleton and Prince William Re-Create Princess Diana's Iconic Taj Mahal Photo #RoyalVisitIndia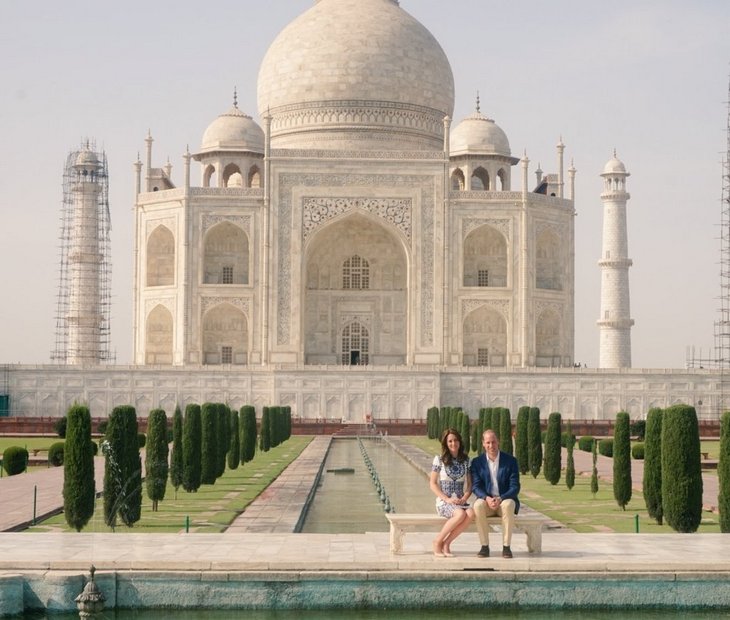 Kate Middleton and Prince William have re-created Princess Diana's iconic Taj Mahal photo. The Duke and Duchess of Cambridge stopped at the tomb on their tour of India Bhutan. There the royal couple sat on the same bench Princess Di posed on during her visit to the landmark.
Diana, Princess of Wales, and mother to Prince William sat on the exact same bench 24 years ago. The photo of the lonely Princess Diana became an iconic image that encompassed the underlining emotions of the end of her marriage to Prince Charles. The Princess coyly sent a message about the photo after a reporter asked about the trip responding, "It was a fascinating experience – very healing." Clearly, Diana of Wales packed the statement with hidden meaning and the reporter pressed on. Princess Diana, no longer a royalty rookie, wisely responded, "Work it out for yourself."
Related: Kate Middleton and Prince William's Trip to India – Duchess of Cambridge Comforts Wills #RoyalVisitIndia
The images of Kate and William sitting on the same bench are glaringly different from the photo of a clearly isolated and defeated Princess Diana. The Taj Mahal, ironically enough in Diana's case, is a monument to love. Shah Jahan commissioned the tomb to be built in 1631 in the memory of his wife Mumtaz Mahal, a Persian princess who died giving birth.
Related: Kate Middleton and Prince William's Favorite Vacation Spots and Hotels
It appears the Duke and Duchess of Cambridge are trying to breathe new life into the narrative to the royals' association with the Taj Mahal. Both Kate Middleton and Prince William smile and sit comfortably by each other. Kensington Palace shared the images of the Duke and Duchess' royal tour of India with the tag #RoyalVisitIndia and updates including, "The tour has been a huge success in deepening the UK relationship with the people of India."
What do you think of Kate Middleton and Prince William re-creating Princess Diana's iconic photo at the Taj Mahal? Let us know your thoughts in the comment section below.
Images Via Kensington Palace